ZnetLive is a domain name registrar. They claim to be the cheapest domain name provider. The catch is you will get the cheap price only for domain name registration and transfer but their domain name renewal fee is expensive. So the price they show in their ads is just like a bait and I'm one of the victims who were attracted in their bait. I searched for a domain registrar who is really cheap in everything (registration, transfer, yearly renewal) and I found one.
The hassle part in ZnetLive is working on transferring the domain away from ZnetLive. I searched their online documentation and I didn't find any documentation about transferring domain away from ZnetLive: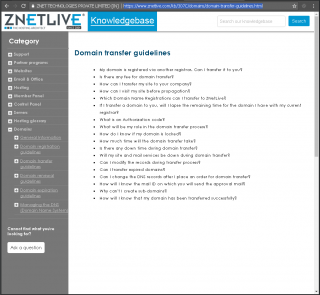 I had a chat with their support to ask for help transfer my domain away from ZnetLive and he instructed me to open a ticket addressing their billing team. So I created a ticket requesting to unlock my domain and get the EPP code or Authorization code. I have waited at least 30 minutes until I got a reply from their billing and the reply was just a question why I would like to leave ZnetLive (none of my requests were given to me). I replied my reason of leaving ZnetLive. They replied after 30 minutes with an offer to change my mind to transfer my domain (still none of my requests were given to me). I replied again, forcing them to give/process my requests immediately. After 45 minutes they replied with the EPP code and information that they unlocked my domain.
I got an issue while transferring my domain, it can't proceed because the domain status is clientTransferProhibited. ZnetLive told me that I have updated/modified the WHOIS contact information of my domain and it has been locked for 60 days so I can only able to transfer this domain on or after expiry of 60 days. I requested ZnetLive to bypass the 60 days lock because I have a domain also in Godaddy which I also updated the WHOIS contact information same date I modified my domain in ZnetLive. I transferred this domain from Godaddy to my new registrar and I have successfully transferred it (I contacted Godaddy to help me bypass the 60 lock from modified WHOIS contact information and they were able to do my request). ZnetLive reply was: bypassing the 60 days lock is not possible to them. Aren't Godaddy and ZnetLive are both registrar? Why can't ZnetLive do what Godaddy is capable of? Worst that can happen is that if your domain will expire within the period of 60 days lock, you will be forced to renew your domain with ZnetLive and cancel your domain name transfer order with your new registrar.
If you have domain(s) under ZnetLive, I suggest you transfer it(them) to cheaper domain name renewal provider.
Tip: you can get the EPP code in your ZnetLive member panel without contacting their billing team. Actually, there is called "Domain Control Center" under "My Services" > "Current Domains" but there is no exposed link to this page for regular member like us: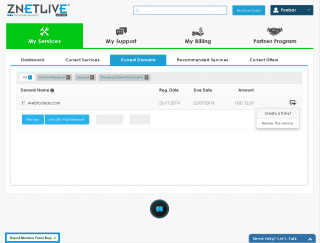 You can go directly to https://manage.znetlive.com/memberp/services/current_domains_details and you can access other operations not exposed to us like getting the EPP code: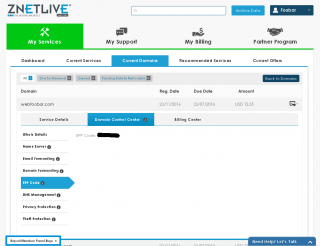 I don't know the reason why ZnetLive hide this link to us. Even you had the EPP code, still you will need to contact them to request them to unlock your domain. If you know a hidden page in ZnetLive that will enable us to unlock our domain by ourselves, please share with us.
The last stage of transferring a domain is to approve the transfer request. Registrars like Godaddy do have good user interface in the account of website owner to approve the transfer request by owner himself but again ZnetLive don't have this feature. You will need to submit ticket to ZnetLive's billing team to request them to manually approve the transfer request and as usual you need to wait at least 30 minutes to complete the last stage of transferring your domain away from ZnetLive.