No matter how many times you change the macOS' display resolution settings (to "Default for display" or "Scaled" 1920x1080), your display resolution persistently change back to its previous settings (to "Scaled" 960x540 HiDPI) under full screen mode.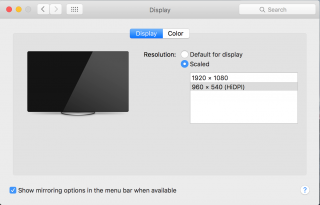 This happened after you installed the "VMWare Tools". In this article will show how to stop VMware forcing the macOS guest OS' display resolution auto scaled under full screen mode.
If you haven't setup your VMWare and macOS guest OS yet, follow this article: Run macOS on Windows using VMware.
Steps:
Start or boot the macOS guest OS.

In VMWare menu, click the "VM" and select "Settings..."

Under "Hardware" tab select "Display" and under the "Display scaling" uncheck the "Automatically adjust user interface size in the virtual machine":

Note: it is important that your guest OS is booted or else the "Automatically adjust user interface size in the virtual machine" option will not be available: